Eighteenmile Creek is one of 43 Areas of Concern (AOC) designated by the International Joint Commission (IJC). Of the 43 Areas of Concern, 26 are entirely within the United States, 12 are entirely within Canada, and 5 are shared by both nations. These AOCs have one or more Beneficial Use Impairments (BUI) that are usually caused by the presence of contaminated sediment, urban wastewater pollution, nonpoint source pollution, inland contaminated sites, and degraded habitat. The development and implementation of Remedial Action Plans will restore and protect the environmental quality of the AOC and the Great lakes.
Eighteenmile Creek has five Beneficial Use Impairments
-Restrictions on Fish and Wildlife Consumption
-Degradation of Fish and Wildlife Populations
-Bird or Animal Deformities or Reproduction Problems
-Degradation of Benthos
-Restrictions on Dredging Activities

Eighteenmile Creek is now a Federal Superfund Site and listed on the National Priorities List (NPL).
The Environmental Protection Agency (EPA) has come up with three operable units
Operable Unit (OU1): Acquire Contaminated Residential Properties in the Creek Corridor and demolition of the former Flintkote building.
Operable Unit (OU2): Remediate Contaminated Industrial and Commercial/Industrial properties in the Creek Corridor.
Operable Unit (OU3): Remediate Contaminated sediment in the Creek from Lockport to the Creek discharge to Lake Ontario.


Help monitor the marshes of Eighteenmile Creek

OTHER GREAT LAKES AREAS OF CONCERN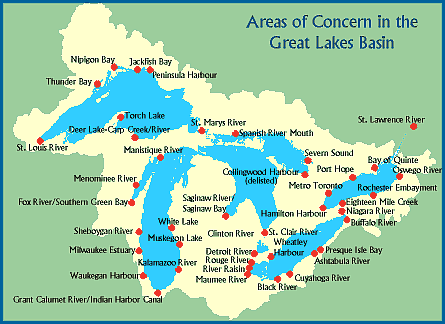 EIGHTEENMILE CREEK IS NOW ON YOUTUBE

THE EIGHTEENMILE CREEK INTERNET MAPPING DATABASE IS HERE
The amount of data available for the AOC is enormous and almost impossible to disseminate without a tool like an online mapping service. It is intended to be used by the general public, RAP stakeholders, and partnering agencies.